.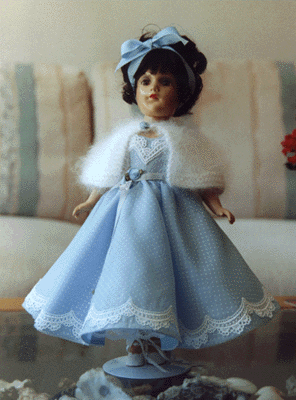 Click on this photo for more detail
(This make take a bit to load, but worth it!)
Mary Hoyer 100% Angora Cape--Light As A Cloud!!
This is a lighter than a "Cloud" recreation of a Mary Hoyer classic. Straight from the "Mary Hoyer and Her Dolls," book. Following Mary's precise instructions this "Snow White" Angora Cape was fashioned to adorn the shoulders of you Mary Hoyer Doll. This cape features a "Blue Satin Rose" button closure.
This cape is being worn over a Mary Hoyer Evening Gown that is also available for purchase.
The model for this gown is a 14 inch composition Mary that has had a trip to the "Doll Spa". She has been rewigged and her original "Mohair Wig" has been shampooed, restyled and carefully put away to wear another day. She has been cleaned with a solution especially designed for composition dolls and has had "Craze Control" applied to her delicate skin. In addition, all Doll Spa clients receive there very own Doll Spa Robe and slippers. For additional information on Spa Services and prices please email me.
Please note that this doll is one of my models and not for sale.