.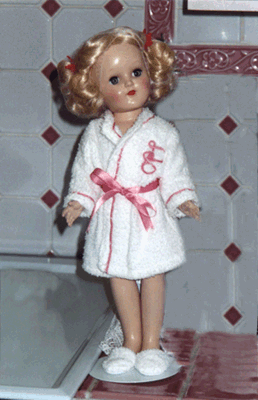 Click on this photo for more detail
(This make take a bit to load, but worth it!)
Doll Spa Signature Robe & Slippers
Our Doll Spa Robes are fashioned from a vintage Toni pattern and are made of high-quality white terry cloth. Each robe is trimmed with, hand dyed, rose piping. There is a monogram on the right side. The robe is secured with a hand-dyed rose ribbon.
The slippers are also made of white terry cloth and have rubber soles so you don't have to worry about her slipping!
This adorable robe and slippers will keep your doll dry and warm while she's deciding just which dress to wear today!!
For additional information on Spa Services and prices please email me.
Please note that this doll is one of my models and not for sale.