.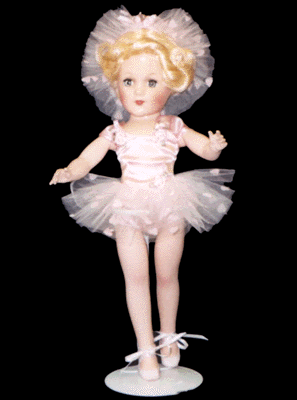 Click on this photo for more detail
(This make take a bit to load, but worth it!)
"Hoyer" Heart and Flowers Ballerina Costume(for 14" Mary Hoyer or 18" Gigi)
This lovely Ballerina Costume is made from a vintage Mary Hoyer pattern. It is has been created in rose pink slipper satin. Netting for the tutu and headpiece is white with flocked rose pink hearts. There are two pink roses on each side to accentuate the delicate neck line, with one more ath the top of the ballet skirt, for an added touch. The head piece has been shaped into a heart with cluster of pink roses. There are two more pink roses attached to streamers at the base of the headpiece, befitting Mary's gracedful neck and lovely back.
You may be interested to know that all the models I use were "distressed" dolls purchased on ebay. This "Prima Ballerina" has been to the "Doll Spa." As you can see she looks like she just came out of the box!!
In addition, all Doll Spa clients receive there very own Doll Spa Robe and slippers. For additional information on Spa Services and prices please email me.
Please note that this doll is one of my models and not for sale.