.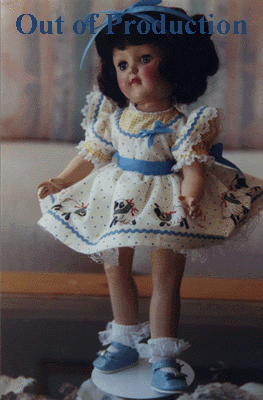 Click on this photo for more detail
(This make take a bit to load, but worth it!)
"Toni had a Little Lamb" Must Have Dress!This adorable little" Mock Pinafore Dress" with attached slip and contrasting panties!! The fabric is from the "Daisy Kingdom" collection by Mary Engelbreit. The background is an ecru color with medium blue little dots and tiny gold stars. The skirt of this dress has a darling border print of "Little Lambs" with "Green Wreaths" tied with little "Red Ribbons" around there necks. Rick-rack edges the bottom of the skirt as well as the pinafore sleeve. The contrasting bodice insert is also trimmed in rick-rack and has a "Dainty little matching Blue Bow" over Toni's heart!! The contrasting bodice insert, sleeves and panties are of a tiny gold and white gingham print.
You may be interested to know that all the models I use were "distressed" dolls purchased on ebay. This doll has been to the "Doll Spa" as you can see she looks like she just came out of the box!! No one would guess she has about 1/2 the hair she should have!! He hair has been styled to give the appearance of a full head of hair with an original set.
In addition, all Doll Spa clients receive there very own Doll Spa Robe and slippers. For additional information on Spa Services and prices please email me.
Please note that this doll is one of my models and not for sale.