.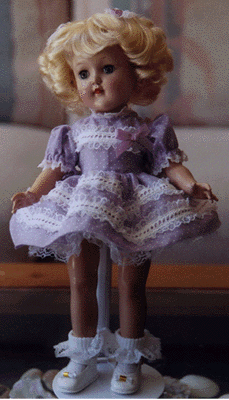 Click on this photo for more detail
(This make take a bit to load, but worth it!)
Lavender and Lace, "To Die For Dress""Absolutely Gorgeous" lavender and lace dress with attached slip, made from a vintage Toni pattern. The fabric is a "Luscious Lavender Nylon Dotted Swiss." The skirt is decorated with two rows of lace with ribbon insets. The bodice is decorated with one row of the same lace and there is a tiny "lavender bow" over her "heart." The sleeves and neck are are trimmed in fine lace. As if this is not enough!! The back of the dress has a big "Lavender Dotted Swiss Bow" and there are two lace and lavender hair ornaments that match the fabric of the dress!! Yummy!!

You may be interested to know that the model has had a trip to our "Doll Spa." We specialize in revitalizing and restyling "Toni Hair." This models hair was perfectly straight before we shampooed, conditioned and curled her hair. Isn't it lovely!!

In addition, all Doll Spa clients receive there very own Doll Spa Robe and slippers. For additional information on Spa Services and prices please email me. . Please note that this doll is one of my models and not for sale.