.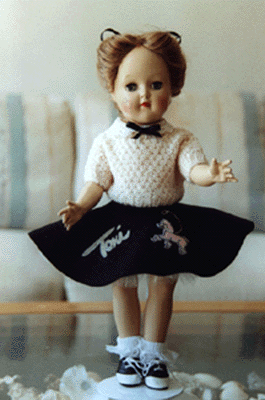 Click on this photo for more detail
(This make take a bit to load, but worth it!)
Toni's ready for the Hop in this "Poodle" outfit!!
Happy Days!! or at least you will think so when you see your Toni doll in this "Groovy" little outfit.
This little outfit features a black felt skirt with attached pink "can, can" slip. The skirt has the "Toni" trademark and an adorable "Pink Poodle" applique. The poodle has a "Rhinestone Collar" and the leash is hand stitched with "Silver Metallic" thread. The skirt has a back snap closure.
The matching sweater is hand knitted!! Made from a "Blush Pink" finger weight imported acrylic yarn and done in a "Moss Stitch". The neckline has a delicate "Lace Collar" with a "Black Satin" ribbon accent which will accentuate the beauty of your Toni's lovely face. The back has a pearl button closure at the neck.
Toni's "two-tone" saddle shoes are also available for purchase.
The model has also had a visit to the "Doll Spa". Where she was bathed, shampooed, moisturized and had her hair restyled. This particular style I call "Pony Tail" and is appropriate for the costume this model is wearing. In addition, all Doll Spa clients receive there very own Doll Spa Robe and slippers. For additional information on Spa Services and prices please email me.
Please note that this doll is one of my models and not for sale.