.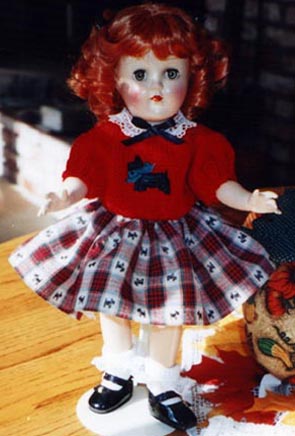 Click on this photo for more detail
(This make take a bit to load, but worth it!)
Scottie Sweater and Skirt, too cute!
This "Bonnie" P90 lass is wearing an adorable two piece outfit. This "Bright Red" sweater is hand knit in a stockinette stitch. The delicate collar is made of Bridal Lace and accented with a black satin bow. On the front is a" Black Scottie" Applique. The flared red, green and black Plaid skirt is studded with "Tiny Black Scotties" everywhere and has an attached slip trimmed with a lace ruffle!
The doll modeling it has just returned for the "Doll Spa" where she received through "pampering"! After her Doll Spa Treatments were completed, her hair was styled in clusters of ringlets. In addition, all Doll Spa clients receive there very own Doll Spa Robe and slippers. For additional information on Spa Services and prices please email me.
Please note that this doll is one of my models and not for sale.