.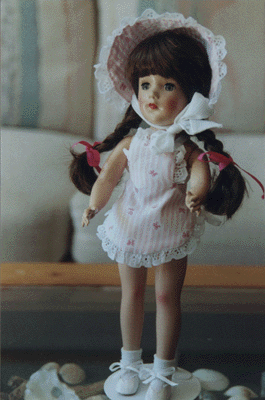 Click on this photo for more detail
(This make take a bit to load, but worth it!)
Mary Hoyer--Ribbons and Bows! Sunsuit and Bonnet!!This is a darling recreation of a Mary Hoyer sunsuit and bonnet taken from a vintage pattern in the book Mary Hoyer and Her Dolls. It is made from a pink and white stripped seersucker fabric that has "Dainty Pink Bows" all over!! the straps and ties are made from "White Pique" and the apron and bonnet are trimmed in "White Eyelet Lace". The bloomers have 4 Rows of "White Eyelet" and a "White Satin" waist back. The bloomers have a side snap closure.

Please note that our model has been to the "Doll Spa". I purchased her as a "distressed" Hoyer. She has been cleaned, re-wigged and redressed so she once again is "Lovely".

In addition, all Doll Spa clients receive there very own Doll Spa Robe and slippers. For additional information on Spa Services and prices please email me. Please note that this doll is one of my models and not for sale.