.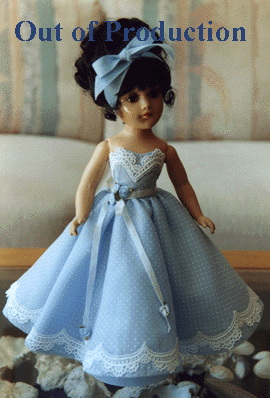 Click on this photo for more detail
(This make take a bit to load, but worth it!)
Mary Hoyer Evening Gown--Have You Ever Seen A Dream Walking?
You'll think so when you lay your eyes on this lovely Mary Hoyer inspired recreation of her "Blue Dotted Swiss Evening Gown". The gown was made from a "Mary Hoyer and Her Dolls" pattern and is in "Vintage Powder Blue Nylon Dotted Swiss" with attached lining. The gown has "Bridal Lace Trim" on both the bodice and all around the hemline. Mary's tiny little waist is accentuated by the "White Satin" ribbon tie that has a cluster of "Three Baby Blue Roses" in the center. Two additional "Baby Blue Roses" are attached to the streamers of the ribbon. The dress comes complete with matching "Lace and Satin" slip.
Matching "Angora Evening Cape" is also available for purchase.
The model for this gown is a 14 inch composition Mary that has had a trip to the "Doll Spa". She has been re-wigged and her original "Mohair Wig" has been shampooed, restyled and carefully put away to wear another day. She has been cleaned with a solution especially designed for composition dolls and has had "Craze Control" applied to her delicate skin. In addition, all Doll Spa clients receive there very own Doll Spa Robe and slippers. For additional information on Spa Services and prices please email me.
Post Script:
You might be interested to learn that a tagged Mary Hoyer Gown very much like this one sold on ebay for $293 a few months ago. This one can be yours for a fraction of the cost.!!
Please note that this doll is one of my models and not for sale.